Last weekend, I flew to San Francisco to participate in this - another photography workshop with Me Ra Koh.


Wow. Just, wow.
I was so out of my element, but I loved it! The workshop pushed me in a new direction and I'm a more well-rounded person because of it. I push myself intellectually at work, I push myself physically in the gym, but I pushed myself artistically this weekend. And it was weird. And amazing. All at the same time.
Learning from Lesley Ehrenfeld, Garrett Burdick, Me Ra Koh, Brian Tausend and Rick Chapman,
all of whom are amazing
The
last
workshop
I took with Me Ra was in Chicago (home) and we learned about the technical (up my alley) aspects of photography - aperture, shutter speed, ISO, flash, shooting in Manual mode. I really enjoyed it and came away with a view that the world was my oyster. Technically, I could take
pictures, now I just needed to take those tools and compose great photographs.
When I first read the description for the workshop, it sounded amazing. First, Me Ra and Brian (her husband) would be there, but they would be complemented by Garrett Burdick and Rick Chapman. Second, this workshop was about artistry, not necessarily about building a photography business (I'm not) or about how to shoot a wedding (I don't). While it sounded a little over my head, it also sounded like something I could really benefit from. Time, and my pictures, will tell...
So I signed up.
And waited.
As I got ready to fly to San Francisco, my mind was in a totally different place. Work w
as busy. Life was busy. Artistry was not at the top of my list.
And when I met the other workshop attendees, the vast majority of whom had their own photography businesses (all but 2 or 3 of us!), I was afraid. I was petrified.
But I survived. ;)
And then I grew, I had fun, and I met some amazing people. What an incredible weekend!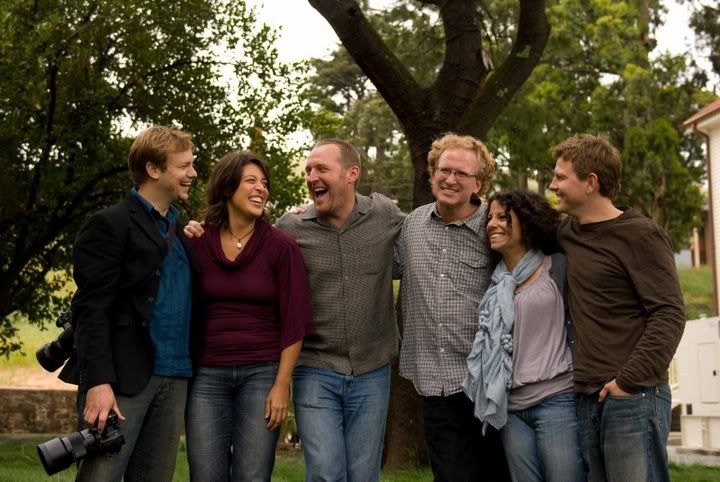 Who wouldn't want to learn from this group?
Brian Tausend, Me Ra Koh, Rick Chapman, Garrett Burdick, Laura Reoch and Matt Reoch
I'll post some more images once I finish editing. We did a few portrait sessions over the weekend, which really pushed me. I've always been an observer. I've never told anyone to smile, much less how to pose for a picture! It was scary at times, but I'm going to work on trusting my judgment, giving myself authority and believing that I know what looks good. In fact, I just may subject someone who is graduating this weekend to a little portrait session...

Look out Patrick! :)